WHEELCHAIR

SPORTS IS
A GROWING PASSION
. . . with something for every
athlete on wheels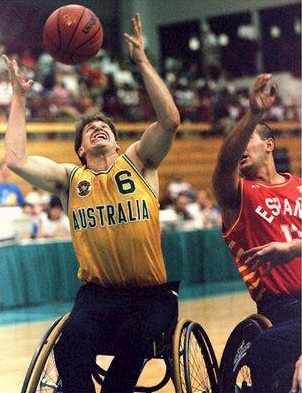 A spirited international wheelchair basketball community provides lots of support for hundreds of men and women mobilized for action.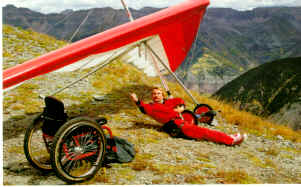 Hang-gliding is catching on as wheelers get out of the chair and into the air . . .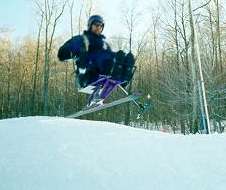 Snowskiing has become a popular winter sport for wheelchair users, who hit the slopes with abandon when the temperatures fall.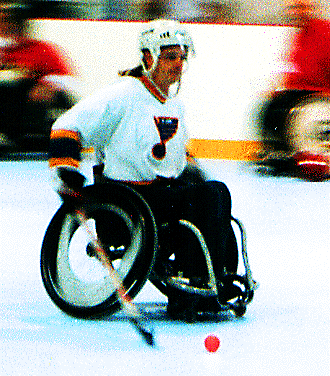 'Brutally competitive' hardly seems adequate to describe wheelchair hockey. As in quad rugby, the repair shops see lots of action after the game. There's even an electric 'power' wheelchair hockey movement.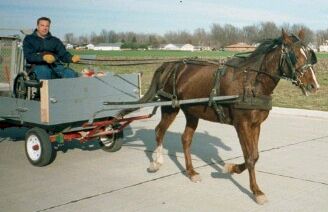 Mark Simons lives on a horse ranch in Illinois, where he likes to horseback ride and, as shown above, to use his horsedrawn 'chair-iot'.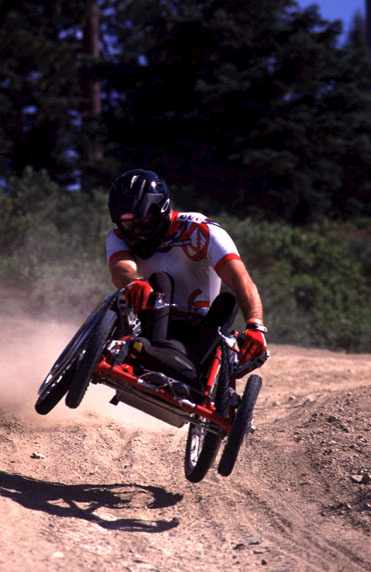 Off road mountain chairs
like this rugged model are a downhill success with hardy types.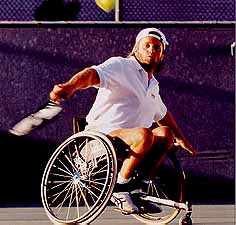 Tennis is expanding its reach,
and quick pivoting three-wheeled sportschairs are the rage.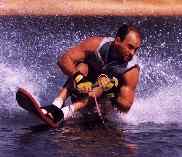 Watersports are growing in popularity among wheelchair users
who can ski just fine sitting down.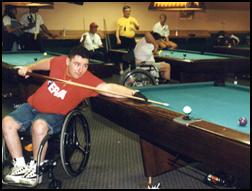 If you'd like something a little less intense, join those who enjoy wheelchair billiards, or the equally popular wheelchair bowling.

Or take to the diamond like the steam-rolling Maryland Ravens, who enjoy wheelchair softball. Below is one of at least 30 teams in a nationwide league shown in action: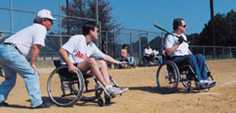 Even the martial arts are open to wheelers, thanks to an adaptation of TaeKwonDo developed by paraplegic Jurgen Schmidt, below: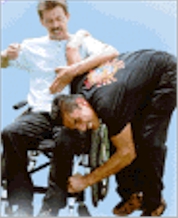 At right, the annual
Blister Bowl,a
wheelchair football playoff
in California,
hosted by the
Santa Barbara
Parks Department.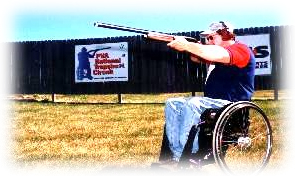 Trapshooting is one of many wheelchair sports sponsored by organizations like United Spinal Association, formerly the Eastern Paralyzed Veterans of America.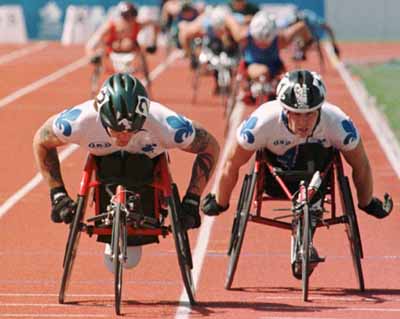 Wheelchair racing has become a major sport, and every marathon finds wheelers among the ranks, pushing the limits of their skills -- and the public perception of what the disabled can do.



Weight training and gym workouts are important among chair users, to tone the upper body and stay trim. The 'No Boundaries' exercise equipment above is typical of products now available to help wheelers keep in shape.

Of course, you can muscle your way to the top, like mathematican Ken Archer, above, who won several wheelchair bodybuilding competitions, after retiring from a wheelchair racing career.

Just when you think you've seen it all, you discover Geno Rodgers, paralyzed from the shoulders down, who'll do just about anything to stay active. Here, he climbs a cliff in New Mexico -- in his chair!