WHEELERS

ARE
BUILDING COMMUNITY
. . . with internet sites
and other creative projects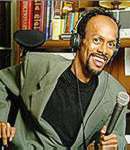 Greg Smith of Phoenix, Arizona, hosts The Strength Coach, a nationally syndicated radio show and companion website for and by persons with disabilities.
---
John Box, below, is a para who serves as president of the hip and edgy wheelchair manufacturer Colours in Motion, makers of rolling machines named Boing, Zephyr, Kripto, Eclipse and Spazz -- but perhaps their biggest product is seeking to support and celebrate a community of customers whose lifestyles exhibit daring and zest.
Publications with resources available on the web:
NEW MOBILITY,
ABILITY, MAINSTREAM,
SPORTS 'N' SPOKES,
PARAPLEGIA NEWS,
---
Winners on Wheels is an adventure and learning organization for kids who use wheelchairs, started by Marilyn Hamilton, co-founder of the Quickie wheelchair manufacturing empire that forever changed the shape of mobility. She's truly a creative winner on wheels herself!
---

by John and Claire Lytle, is an online antidote to the grumpy in any of us. Its wheelchair-enabled hero, "Leeder O. Men" will inspire you.


Gary Karp of San Rafael, California, above, a skilled juggler and ergonomics guru, has written two helpful new books, one on the many aspects of the active wheelchair life, another on selecting a chair. Read about Gary and his books here. And now there's a useful new website from his publisher.
"Pushing Forward" is more than just the theme of Randy Snow's book -- it describes the energy of his life. Injured in a farming accident at 15, he grew up to become nationally recognized in sales, a frequent speaker for Fortune 500 firms, and one of the most successful gold medal wheelchair athletes in history. In the 1996 Olympics, he received the torch from President Bill Clinton, and in 2004, Randy was the first Paralympian inducted into the Olympic Hall of Fame.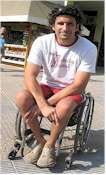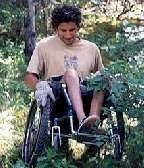 Crip College is the fresh, slickly-designed, information-packed web site of Christian Bagg, Calgary, Alberta, above, who has an abundant lifestyle full of fun. He's also working with a major medical equipment manufacturer to market his design of a "dream wheelchair." Christian's website offers a series of video clips showing numerous smart techniques for chair users -- going down escalators, for one -- and bulletin board discussion groups, as well as engaging photos and a video clip of his T8 mishap on the ski slope. Crip College is a must-enroll.

---
Gary Schooley of Maui, Hawaii, right, is the webhost of Paralinks, a rich gateway to info on hundreds of wheelchair users who, like Gary, contribute signficantly to a better life for those with and without disabilities.
---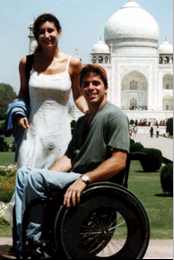 Scott Chesney, left, of Verona, New Jersey, former fundraiser for the Miami Project to Cure Paralysis, has made several round-the-world tours to focus attention on fighting what he calls widespread emotional paralysis.
| | |
| --- | --- |
| Bubba McIntosh went from being a teenage spinal injury patient to rehab director at Baptist Hospital of Nashville, Tenn. to being named the hospital's vice president of organizational support and ambulatory services | |

QUADS SHARE THEIR STORIES:
Four sites that give the 'temporarily able-bodied' a better insight into the complex experience of disability and an appreciation for the resilience of the human spirit.
Mark Hanaway of North Carolina, C-6, has an incredibly active life, and invites readers to join his circle of friends at his interesting website.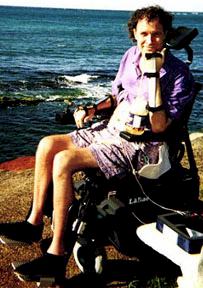 Michael J. Kanouff's candid website, From the Edge, tells the compelling first-person story of his pilgrimage as a conquering quadraplegic.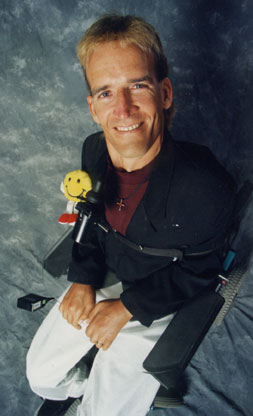 Ron Heagy of Oregon is author of Life is an Attitude, a book about his 18-year pilgrimage as a quad. His website has a gallery of his paintings as a skilled "mouth artist" and info on the barrier-free camp for families that he is developing.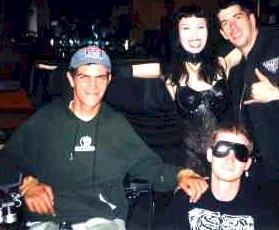 In Spinalcordcam.com, a spunky guy named Buz (above left) of Vancouver dared to turn a 24-hour live web camera on his difficult but surprisingly active life as a quad.
It's well worth a visit.
Click these net assets:

champions 'empowered living' and offers
a broad range of disability resources.
If you read French, take a look at Le Petit Handinaute, a monthly wheelchair e-zine by editor Laurent Lejard and designer Philippe Gimet.
Larry Kubicz of Denver, Colorado, is the compiler of WheelerWorks, which offers links to dozens of good resources.
British Broadcasting Corporation produces an extensive web-based Disability Zone, drawn from broadcasts on BBC Radio.
The University of Alabama at Birmingham offers the Spinal Cord Injury Information Network, a comprehensive website dealing with a full range of mobility and rehabilitation concerns.
Advocacy, a disability discussion group, has been going for five years now. If you'd like to join, email founder and co-moderator Carol Banks at cbanks@charter.net.
University of Pittsburgh's Rehabilitation Engineering Research Center maintains an interesting website called WheelchairNet.
Please email the webmaster if you have other sites you'd like for us to highlight on this page.