WHEELERS
ARE
BUILDING COMMUNITY
. . . with internet sites
and other creative projects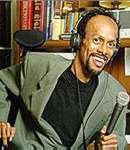 Greg Smith of Phoenix, Arizona, produces On A Roll, a nationally syndicated radio show and companion website for and by persons with disabilities.

Gary Schooley of Maui, Hawaii, is the webhost of Paralinks, a rich gateway to information on hundreds of wheelchair users who, like Gary, contribute signficantly to a better life for those with and without disabilities.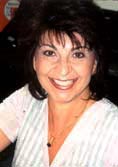 Winners on Wheels is an adventure and learning organization for kids who use wheelchairs, started by Marilyn Hamilton, co-founder of the Quickie wheelchair manufacturing empire that forever changed the shape of mobility. She's truly a creative winner on wheels herself!

Scott Chesney, above, of Verona, New Jersey, former fundraiser for the Miami Project to Cure Paralysis, has made several round-the-world tours to focus attention on fighting what he calls widespread emotional paralysis.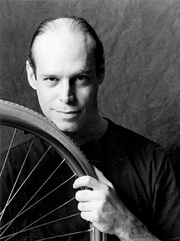 Gary Karp of San Rafael, California, above, a skilled juggler and ergonomics guru, has written two helpful new books, one on the many aspects of the active wheelchair life, another on selecting a chair. Read about Gary and his books here. And now there's a useful new website generated by the books' publisher.
---

Mark Pinney published the CanDo website, with helpful info and tools for and about people with all kinds of disabilities. It was an outgrowth of Mark's earlier SpineWire site, which focused specifically on spinal-injury disabilities. Unfortunately, financial shortfalls took the combined site down in summer 2001.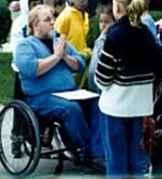 Kim Hetrick of Detroit, left, teaches 4th and 5th graders in a Quaker school. He's a former chef and enjoys playing the Irish Bouzouki, a kind of long-necked mandolin. His upbeat website is a spirited example of wheelers' community building.
---
Click these net assets:

is a recently developed website which champions 'empowered living' and offers a broad range of disability resources.
Please email the webmaster if you have other sites you'd like for us to highlight on this page.

QUADS SHARE THEIR STORIES ONLINE:
Here are three sites that give the 'temporarily able-bodied' a better insight into the complex experience of disability and an appreciation for the resilience of the human spirit.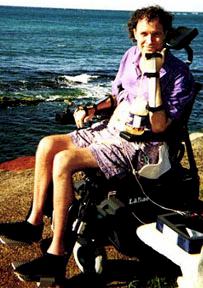 Michael J. Kanouff's candid website, From the Edge, tells the compelling first-person story of his pilgrimage as a conquering quadraplegic.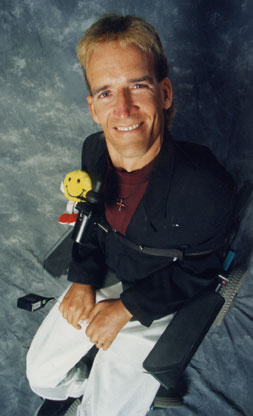 Ron Heagy of Oregon is author of Life is an Attitude, a book about his 18-year pilgrimage as a quad. His website has a gallery of his paintings as a skilled "mouth artist" and info on the barrier-free camp for families that he and his wife are developing.


In Spinalcordcam.com, a spunky guy named Buz (above left) of Vancouver turns a 24-hour live web camera on his difficult but surprisingly active life as a quad. Buz travels in his van and runs a club, among other adventures.


by John and Claire Lytle, is an online antidote to the grumpy in any of us.
Its wheelchair-enabled hero, "Leeder O. Men" will inspire you.
Several print publications have websites that include material from their magazines:
NEW MOBILITY, the online version, offers a chat room and other web-specific features.

WE, a website with highlights from the print publication 'about opportunity, not charity ... replacing pity with pride.'

ABILITY, which features a few excerpts from its print material each month, plus a lengthy page of resource links.
MAINSTREAM, the online edition of the news, advocacy and lifestyle magazine for people with disabilities.

SPORTS 'N' SPOKES, an internet index to the print publication and its sister magazine,

PARAPLEGIA NEWS, both sponsored by Paralyzed Veterans of America.
Email the webmaster to recommend other links you'd like us to publish.